TÜV Rheinland standard certifications.
From a standard to a tailor-made certification program.
Personnel certification is a certificate of conformity issued by an independent, competent body to attest the proven skills of individuals with specific qualification profiles.
As an experienced, independent and recognized body for personnel certifications, PersCert TÜV meets internationally recognized standards for testing technical and specialist skills.
The certification body PersCert TÜV is one of the largest and most reputable certification bodies for certifications of persons. In addition to on-site examinations, we also arrange safe and independent exams from home through our online examination service.
Certifying individuals is one of the services offered by TÜV Rheinland in its capacity as an international testing service provider.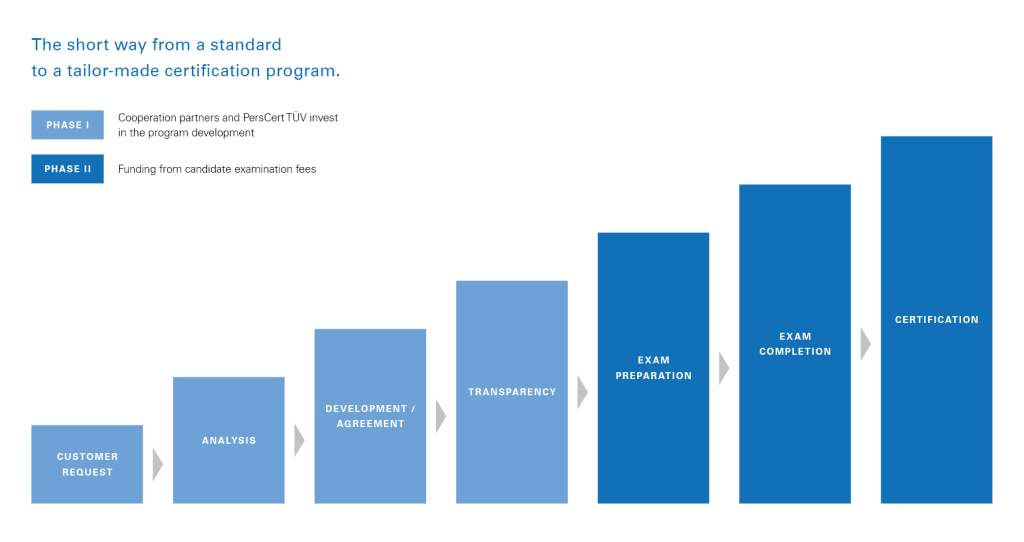 Your path to certification.
Customer request.
We will have an initial consultation to learn more about your requirements. By means of an independent skills assessment, we will work together to determine how PersCert TÜV certification can supplement and enhance the professional training you or your partners provide.
Analysis.
We then analyze the content and scope of your training, the qualifications of the lecturers to be appointed, and what you see as the start/end level of the skills of your participants. We will use the results of this analysis to develop a suitable examination procedure, along with its modules and order of progress. We take into account the expected number of examinations and number of participants to assess the economic feasibility of a PersCert TÜV certification program.
Development/Agreement.
When developing the certification program, we define the admissions requirement, the examination method (e.g. written, oral, practical exam), the examination tools and, the recertification process. Ongoing development of your program enables your learners to keep in pace with the evolving requirements of the market. PersCert TÜV develops recertification procedures in which your participants must regularly prove that their skills are up-to-date. When all the parameters are defined, a cooperation agreement is concluded between PersCert TÜV and you as a cooperation partner.
Transparency.
Under the cooperation agreement, your training program receives recognition as the basis for PersCert TÜV certification. You can then use this recognition for commercial purposes. We support you by publishing your certification program in the TÜV Rheinland certificate database Certipedia.
Thanks to our standardized certification procedures, we are able to adequately verify skills across a wide range of disciplines and document them transparently to the outside world. We have over 500 different certification programs that can all be found on our online platform Certipedia.
Exam Preparation.
Exams are prepared and carried out under PersCert TÜV's sole responsibility. This minimizes the workload for our cooperation partners and ensures the objectivity, validity and independence of examination.
Independent examination.
The exams are carried out by independent examination proctors and examiners. They are instructed by PersCert TÜV in the examination procedures for local implementation. The proctors competence is verified by PersCert TÜV and subjected to ongoing monitoring. We also offer safe and secure, online exams from home through our online exam proctoring services.
Certification.
The examination procedure for each individual candidate is verified by PersCert TÜV and concluded with a certification decision leading to a personnel certificate for your successful participants. The certification is registered with PersCert TÜV and can be verified accordingly. Certificate holders can also apply for an individual test mark signet in conjunction with a Certipedia entry.
You might also be interested in our other PersCert offerings.