TÜV Rheinland standard certifications
Personnel certification is a certificate of conformity issued by an independent, competent body to attest the proven skills of individuals with specific qualification profiles. In our portfolio of TÜV Rheinland standard certifications we offer ready global certification programs and at the same time we can create tailor-made certification programs according to your individual needs.
Our global certification programs
PersCert TÜV offers your employees, your learners or your association members an internationally recognized portfolio of certification programs in the core competence areas, such as Quality Management and Health & Safety, enabling international comparability for your learners. These programs are developed with our subject matter experts around the world and in accordance with the highest DIN EN ISO 17024 standards. The portfolio of programs is growing rapidly and we have an overview of some of these selected programs for you here. For further information on the programs, please klick on the following button which leads you directly to our online certificate database Certipedia.
The areas of Energy and Environment have never been more important and the need for internationally applicable standards and competence validation has grown exponentially. The PersCert TÜV Energy and Environment (E&E) portfolio focuses on the latest requirements of the rapidly developing market, giving learners the opportunity to verify their up to date competency and giving organizations the edge in a highly dynamic area.
Recent times have shown again how important Occupational Health and Safety is for all stakeholders and highlighted the importance of internationally recognized skills verification so that certification continues to be a key focus for organizations around the world. The PersCert TÜV portfolio in Security and Occupational Health and Safety (OHS) focuses on the latest requirements of the increasingly important market, giving learners the opportunity to verify their up to date competency and giving your organization the edge in the OHS area.
Internationally applicable standards and competence validation continue to play a major role in the Quality Management (QM) area. The PersCert TÜV QM portfolio focuses on the latest requirements of the rapidly developing market, giving learners the opportunity to verify their up to date competency and giving organizations the edge in a highly dynamic area
With PersCert TÜV, you can become a certified expert in the Sustainable Development field, following the United Nations' Sustainable Development Goals (SDGs), managing economic, ecological and social resources more efficiently. Management that considers these elements leads to successful long-term business development and a positive contribution of the company towards sustainable development of society at large. Companies that integrate fundamental and sustainability-oriented values into their daily operations not only foster a greater sense of ownership and motivation among their own employees, but also inspire confidence in customers, suppliers and financial investors.
GHG Accountant (TÜV)
The GHG Accountants (TÜV) are able to work effectively by checking the GHG inventory in companies and projects, analyzing the information management system, data and quantifying the emission levels, aiming the UN´ SDG 13: greenhouse gas emissions reduction by 7.6% yearly starting at 2020.
Focus Group are environmental and gas emissions technicians, consultants and managers.
From a standard to a tailor-made certification program
You want to validate the competence standard of your employees? We develop tailor-made personnel certification programs on the basis of your own requirements, legal framework conditions and other relevant performance standards and norms. Thanks to our many years of experience and a highly specialized team of assessment developers and specialists, we are able to design the process in a highly efficient manner. From defining the skill to the final certification, PersCert TÜV is exactly the right partner for you. See below how your path to a tailor-made certification program looks.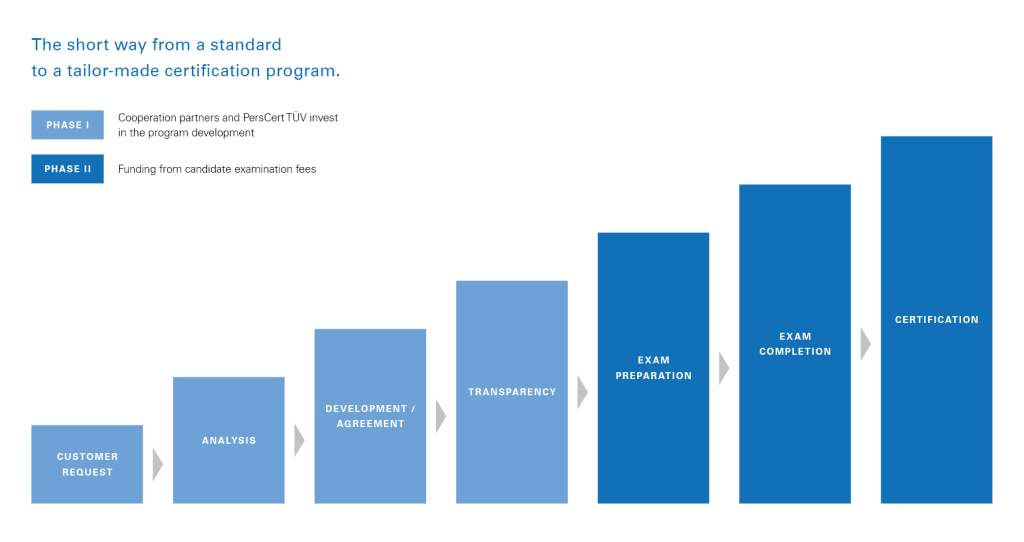 Your path to certification
Customer request
We will have an initial consultation to learn more about your requirements. By means of an independent skills assessment, we will work together to determine how PersCert TÜV certification can supplement and enhance the professional training you or your partners provide.
Analysis
We then analyze the content and scope of your training, the qualifications of the lecturers to be appointed, and what you see as the start/end level of the skills of your participants. We will use the results of this analysis to develop a suitable examination procedure, along with its modules and order of progress. We take into account the expected number of examinations and number of participants to assess the economic feasibility of a PersCert TÜV certification program.
Development/Agreement
When developing the certification program, we define the admissions requirement, the examination method (e.g. written, oral, practical exam), the examination tools and, the recertification process. Ongoing development of your program enables your learners to keep in pace with the evolving requirements of the market. PersCert TÜV develops recertification procedures in which your participants must regularly prove that their skills are up-to-date. When all the parameters are defined, a cooperation agreement is concluded between PersCert TÜV and you as a cooperation partner.
Transparency
Under the cooperation agreement, your training program receives recognition as the basis for PersCert TÜV certification. You can then use this recognition for commercial purposes. We support you by publishing your certification program in the TÜV Rheinland certificate database Certipedia.
Thanks to our standardized certification procedures, we are able to adequately verify skills across a wide range of disciplines and document them transparently to the outside world. We have over 500 different certification programs that can all be found on our online platform Certipedia.
Exam Preparation
Exams are prepared and carried out under PersCert TÜV's sole responsibility. This minimizes the workload for our cooperation partners and ensures the objectivity, validity and independence of examination.
Independent examination
The exams are carried out by independent examination proctors and examiners. They are instructed by PersCert TÜV in the examination procedures for local implementation. The proctors competence is verified by PersCert TÜV and subjected to ongoing monitoring. We also offer safe and secure, online exams from home through our online exam proctoring services.
Certification
The examination procedure for each individual candidate is verified by PersCert TÜV and concluded with a certification decision leading to a personnel certificate for your successful participants. The certification is registered with PersCert TÜV and can be verified accordingly. Certificate holders can also apply for an individual test mark signet in conjunction with a Certipedia entry.
You might also be interested in our other PersCert offerings